"It's the music that brings us together, but it's the friendships that make us stay"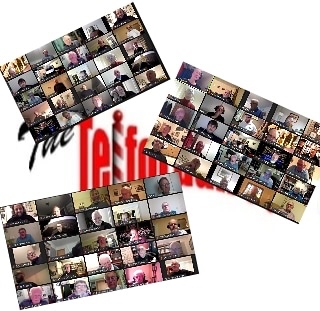 What makes a fabulous party?
Well, friends old and new, of course, and some great music. And, some would say, plenty of beer!
Well, two out of three ain't bad! On Wednesday 17th March, the Telfordaires were proud to host our second Polecat Party. Our normal ranks were swelled by THREE TIMES as we welcomed barbershop chorus members from Aberdeen to Plymouth, with attendance peaking at 62.
MD Liz got us in the mood with a classic warm up routine mixing physical and vocal gymnastics and then, thanks to the magic of Zoom, we were allocated to breakout rooms to sing along in small groups to a range of familiar Polecat favourites including "Heart of my Heart", "Down our Way", "My Wild Irish Rose" and what is fast becoming a lockdown favourite, "It's the Music that Brings us Together".
We were also set a fun task: change song titles by one word and see what "damage" we can cause. For example in our group "Let me call you Sweetheart" became "Let me call you... a cab". :-)
And of course there was plenty of banter and chat as we shared stories about how different choruses have been adapting during lock down and our emerging plans for a return to the risers.
Many thanks as always to our MD Liz Garnet for hosting the session and to representatives from the following chorus for joining in the fun with the Telfordaires:
Vale Harmony, Pershore
Granite City, Aberdeen
Ocean City, Plymouth
Ouse Valley, Huntington
Heart of England, Leicester
Rolling Hills, Edinburgh
Cottontown Chorus, Bolton
Who knows, maybe such virtual meets might become a regular feature in the future?