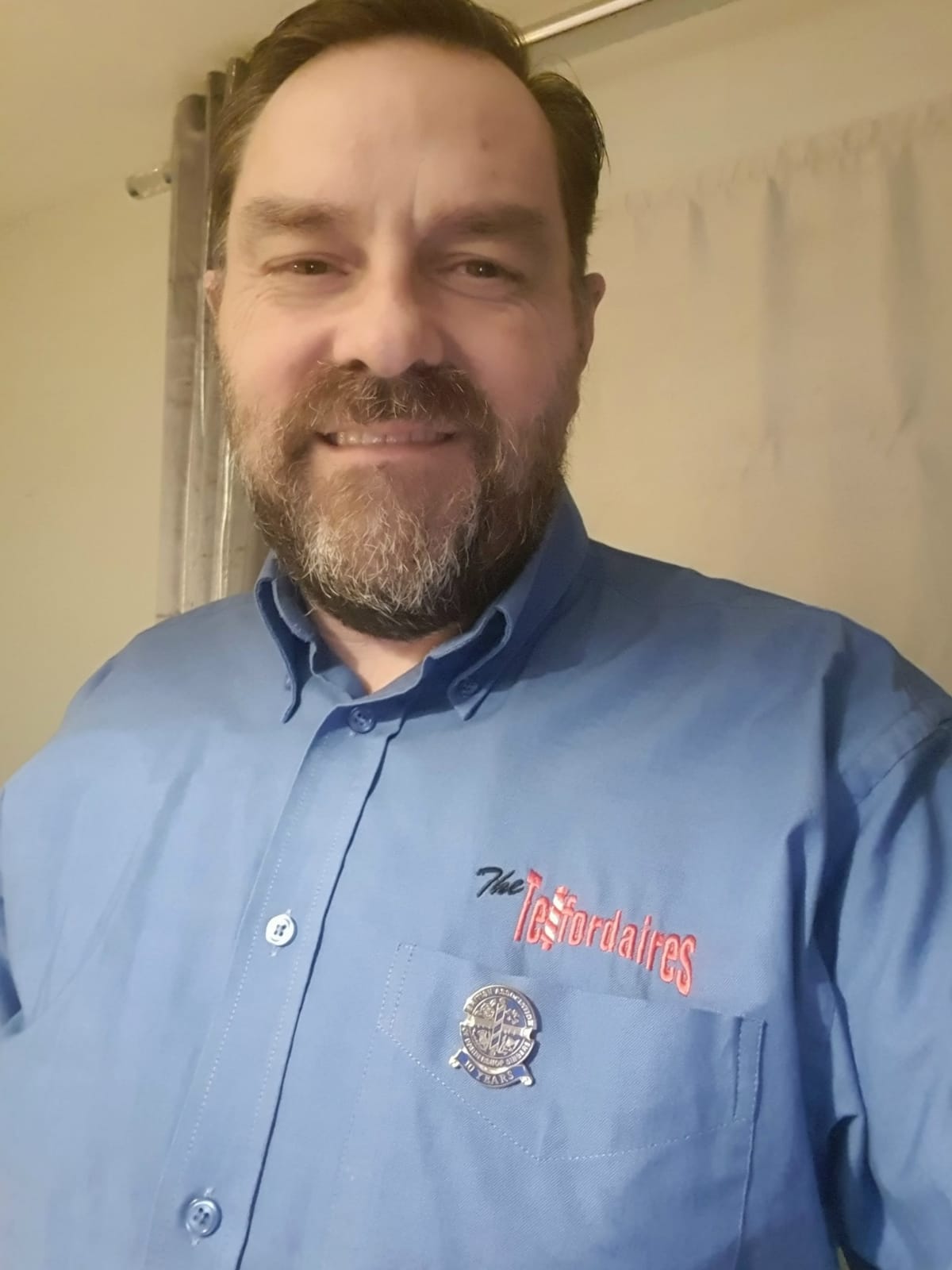 Phil Smith marks 10 years with the Telfordaires on 1st April 2021. As he's nobody's fool (!) we decided to ask him to sit in our Hot Seat, proudly sporting his Long Service Award Pin. Since 2011 Phil has served eight years as club treasurer and five years as Tenor section leader. We asked him a few questions....
Q: When you're not singing with the Telfordaires, what do you like to do to relax?
Phil: I enjoy Formula 1 and also watching any team game in which our national team are playing.
Q: What non-barbershop music do you love?
Phil: On occasion I sing in my church choir, but other than that, I don't really listen to other music.
Q: It's your birthday dinner - what's on the menu?
Phil: Steak and peppercorn sauce.
Q: If your house was on fire, what one item/ object would you run in to save?
Phil: My phone, it has all my insurance details on it.
Q: Many barbershoppers are self taught musicians - are you?
Phil: I started singing in junior school choir and have been in choirs all my life. I guess I've had many directors who have coached me over 50 years
Q: When did you first get into barbershop?
Phil: I first sang Barbershop with Stockport in the 1990's but only for three weeks as I could not committ the time due to having a young family. I joined the Telfordaires in April 2011, following an invitation from Walter Marston.
Q: What is so special about the barbershop community?
Phil: Everyone is an equal. No matter what your background is like, if you can sing, we want to sing harmony with you.
Q: What's been your most memorable barbershop experience or performance?
Phil: Winning a Silver Medal with my former quartet 'Wrekin Havoc' at the Irish Association of Barbershop Singers Convention in 2017.
Q: Which barbershop singer, quartet or chorus do you most admire? Who has influenced you most?
Phil: That would be my first director at Telfordaires, Dale Kynaston. His ability to direct the chorus and have us understand what he wants from the risers was inspiring.
Q: And finally, what do you love most about the Telfordaires?
Phil: The camaraderie we share at rehearsals and wherever we go for a sing out. I have made so many new friends that I could not count them all.